Last update: 6/3/2020
The field status web page and hotline should be updated by 1:00 PM on the weekday in question, but will not be updated on weekends or holidays. League representatives are responsible for determining field safety and playability status on weekends. Please see full policy below.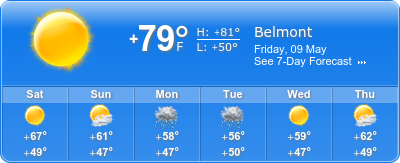 COVID-19 Reminder:

Outdoor recreation activity must take place within

10 miles

of a person's residence. This applies to anyone living in or traveling to San Mateo County.

Restrooms, courts, playgrounds, and dog parks/off-leash hours remain closed.
| | |
| --- | --- |
| Sports Fields | Status |
| Sports Complex: North Field | Closed |
| Sports Complex: South Field | Closed |
| Sports Complex: Marina Field | Open |
| Alexander | Open |
| Barrett | Open |
| Central | Open |
| Cipriani | Open |
| Fox | Open |
| McDougal | Open |
| Nesbit | Open |
| Ralston | Open |
Fields will be closed if pick up games or other gatherings occur. This includes City and BRSSD multi-use athletic fields.
INCLEMENT WEATHER POLICY
Athletic fields may be closed due to inclement weather or saturated conditions. Organizations must call the Field Status Hotline at (650) 592-7557 or check the City of Belmont website for updates. The hotline and website should be updated by 1:00 PM on the weekday in question, with the exception of weekends and holidays.
For all weekend activity (including Fridays, Saturdays, and Sundays), it is the responsibility of the league representative to determine the safety and playability of their respective sites.
Not adhering to the Inclement Weather Policy will result in the following consequences.
1st Offense: Written warning to the league representative.
2nd Offense: Suspension of field use by the offender
3rd Offense: Hearing before the Parks & Recreation Commission with a potential loss of the field use permit for the organization

Get updates right on your phone!
If you have a smartphone, get push notifications by going here.
If you don't have a smartphone, get text notifications by texting "@belhotline" to 81010
For email notifications, go to http://rmd.at/belhotline to sign up. (Standard text messages rates apply.)